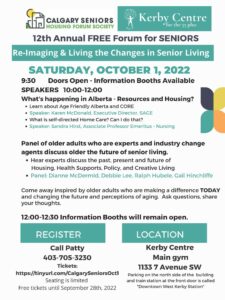 The future of resources and housing might affect you or a family member. Are you interested in finding out what this looks like? There have been many changes with more to come.
The Calgary Seniors Housing Forum Society and the Kerby Centre are bringing together Experts to share important information on Seniors Housing and  living a Healthy & Inspired Life – join us for "Re-imaging Living the Changes in Senior Living", a special 1/2 day Event.
As we grow older, many changes and challenges can take place. We can enhance our quality of life by embracing the many Changes that take place with some planning and research. Experts that are knowledgeable about a variety of senior housing, services and supports will available to answer questions.
Come away inspired by older adults who are making a difference TODAY and changing the future and perceptions of aging.
This is a free event – seating is limited. Register by calling Patty at the Kerby Centre 403-705-3230.
If you have questions or would like more information call us direct at 403-605-3774
Debra & Peter Molzan