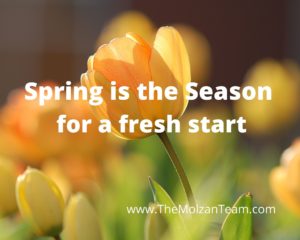 Spring has arrived and many of us start to think of Spring cleaning. While growing up this was an annual ritual where the entire house had to be cleaned from light fixtures to closets. It was the season to take items out of the home that weren't being used and donate them to a charity.  After a long winter it gives you a feeling of a fresh start when you start spring cleaning.
There are many people who just cannot part with items and saving them for the future gets out of control. Their home becomes so cluttered that it becomes a stressful situation.
Hoarding is a very real and difficult challenge. CARYA Calgary is offering a program called Making Room. CARYA offers hope and support for anyone facing this issue. There are sessions starting in April. If you know of anyone who could benefit call 403.537.3383 for more information
If you would like to receive a spring-cleaning checklist let us know and we will pass one along.
Spring is the season for a "Fresh Start" in life!
Request the spring-cleaning checklist at  info@TheMolzanTeam.com